SAN FRANCISCO, 21 March — Wandering Apricot has a close encounter with ballet legend (Shanghai Dance School at 11, Soloist with San Francisco Ballet at 18, principal dancer at 20) Yuan Yuan Tan. Despite minor "stalker" inclinations Apricot enjoys Sarah Van Patten's performance as Juliet in The San Francisco Ballet's performance of Romeo and Juliet.
wandering apricot
Do you recognize the impossibly fuzzy dancer in this photo that I took?
It is none other than the incomparable Yuan Yuan Tan of the San Francisco Ballet.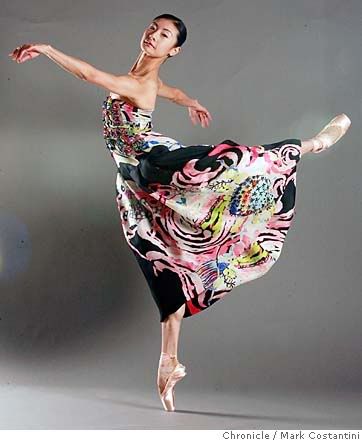 A fellow balletomane and I attended a pre-performance talk at the Green Room before the evening performance of Romeo & Juliet. Sarah Van Patten was dancing Juliet that night, so Yuan Yuan Tan attended as the featured guest. I sat only a row behind hers! So that accounts for the fuzzy, stalker-y photo. She was memorable mainly for her presence: direct, uncompromising, and skinny. So skinny! It's funny that that's what struck us the most about her; on stage, I suppose you don't notice, but in person she is all vertical lines up and down. She was quite vehement in her opinions, rejecting outright the host's suggestion that Juliet and Giselle were similar heroines. Tan had the air of someone who didn't…
View original post 160 more words